Drag the monitor to view more screens.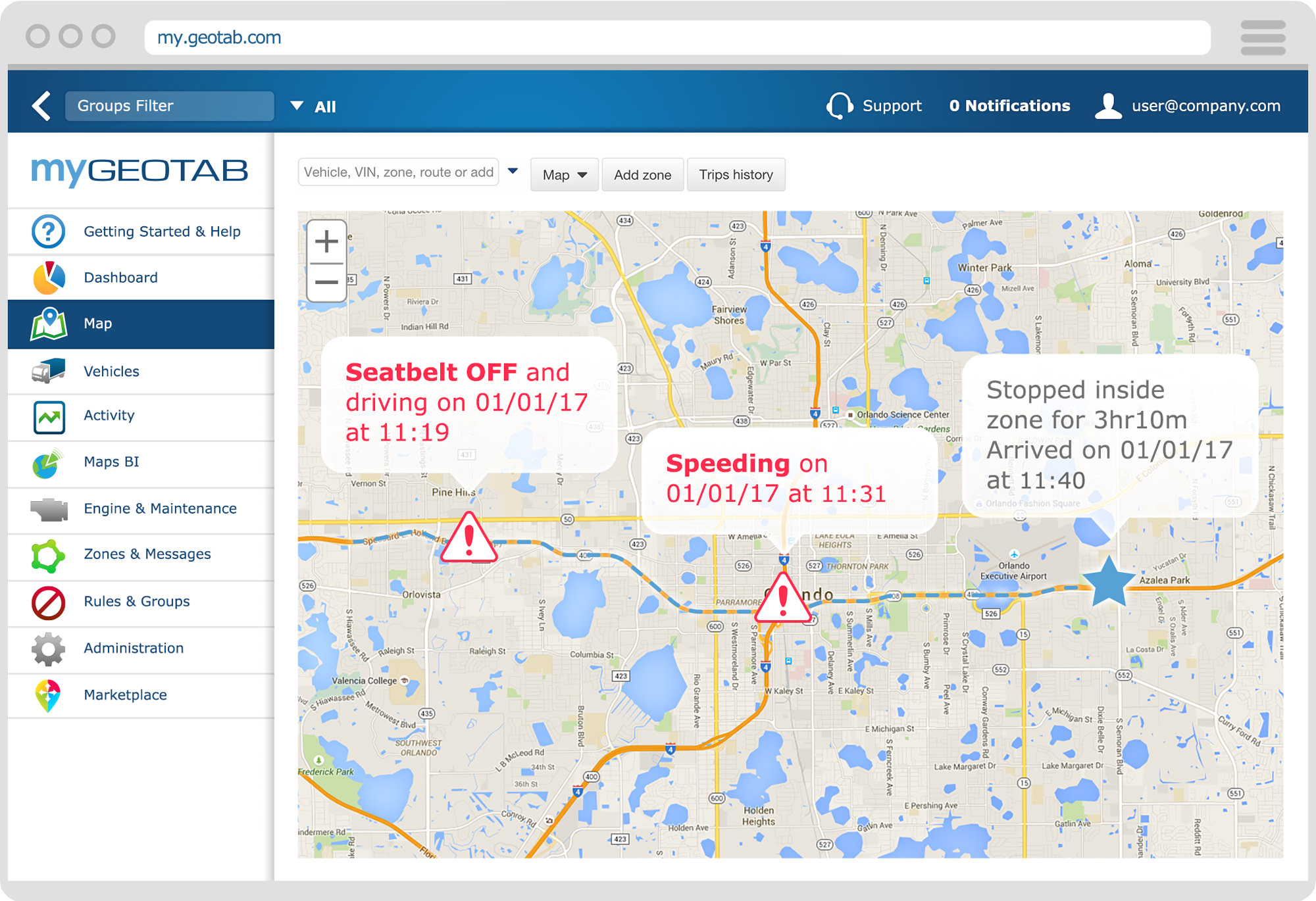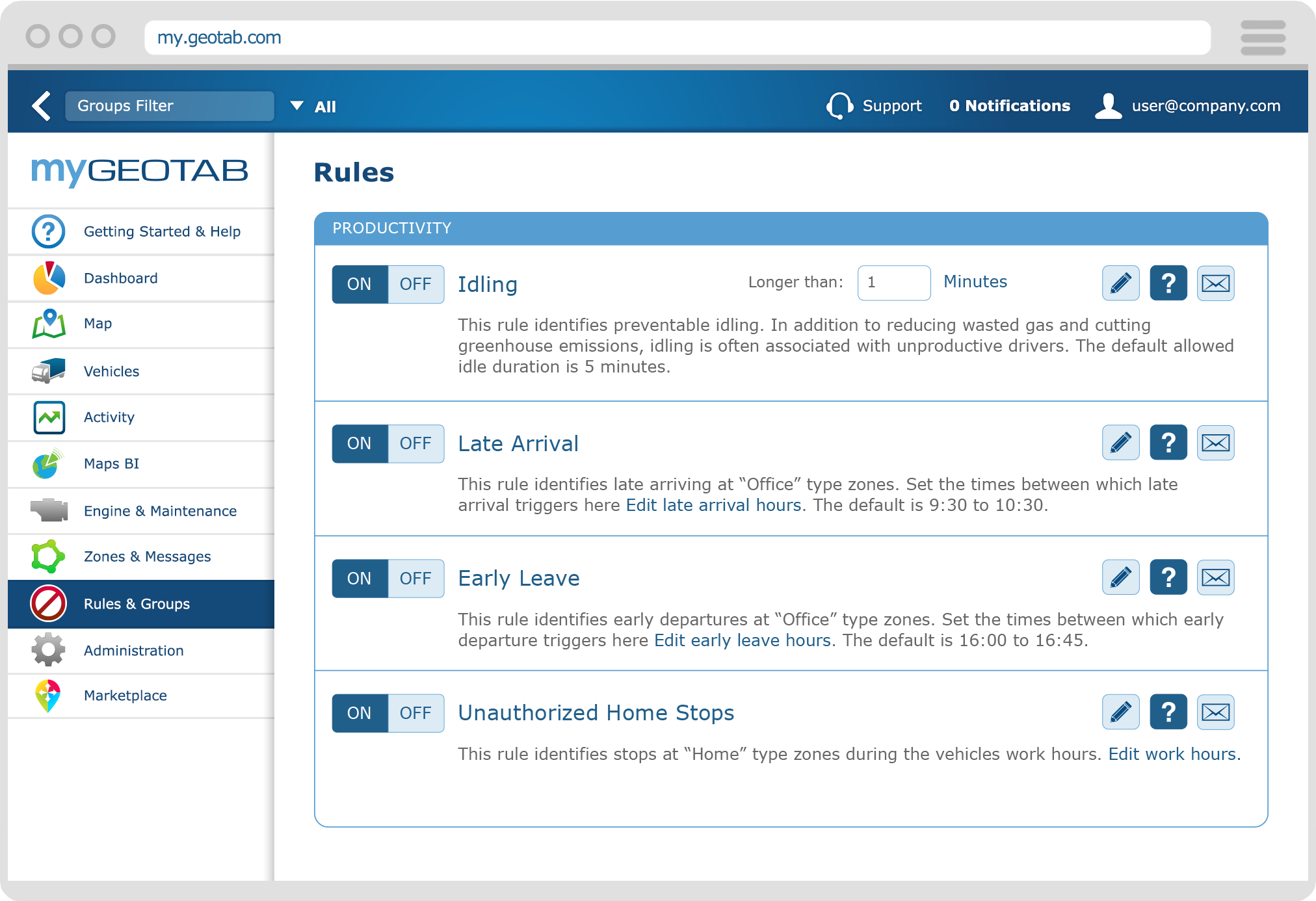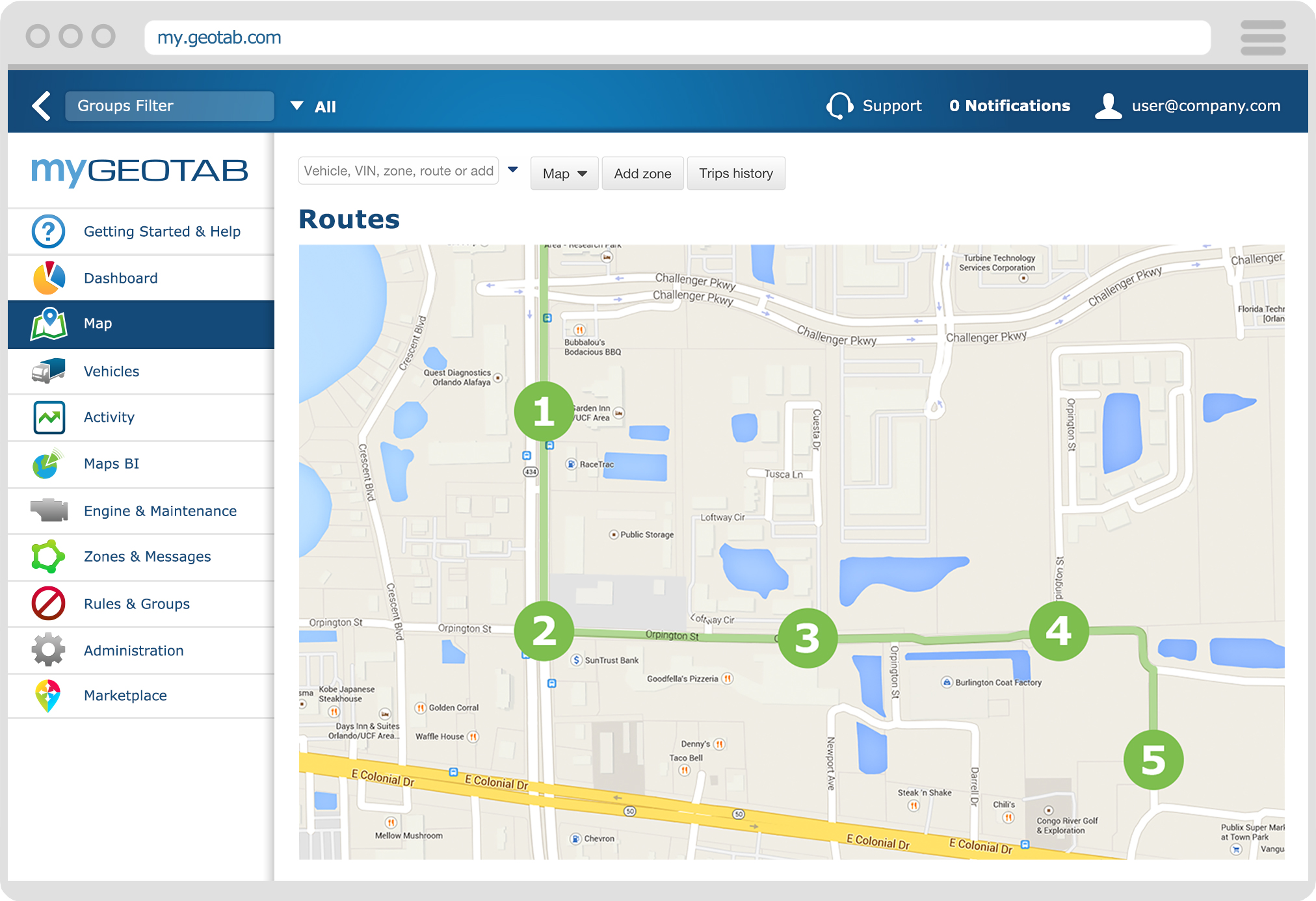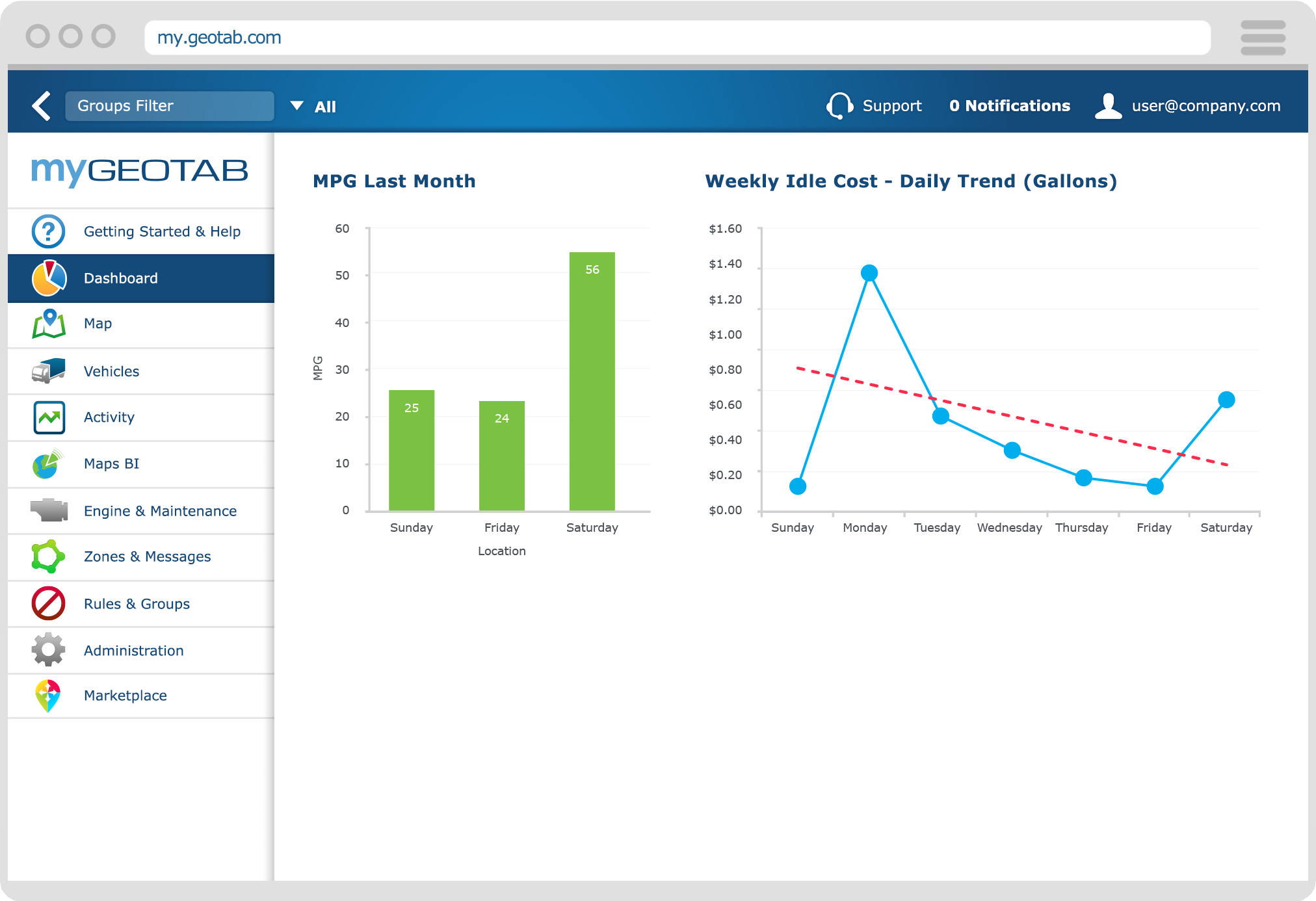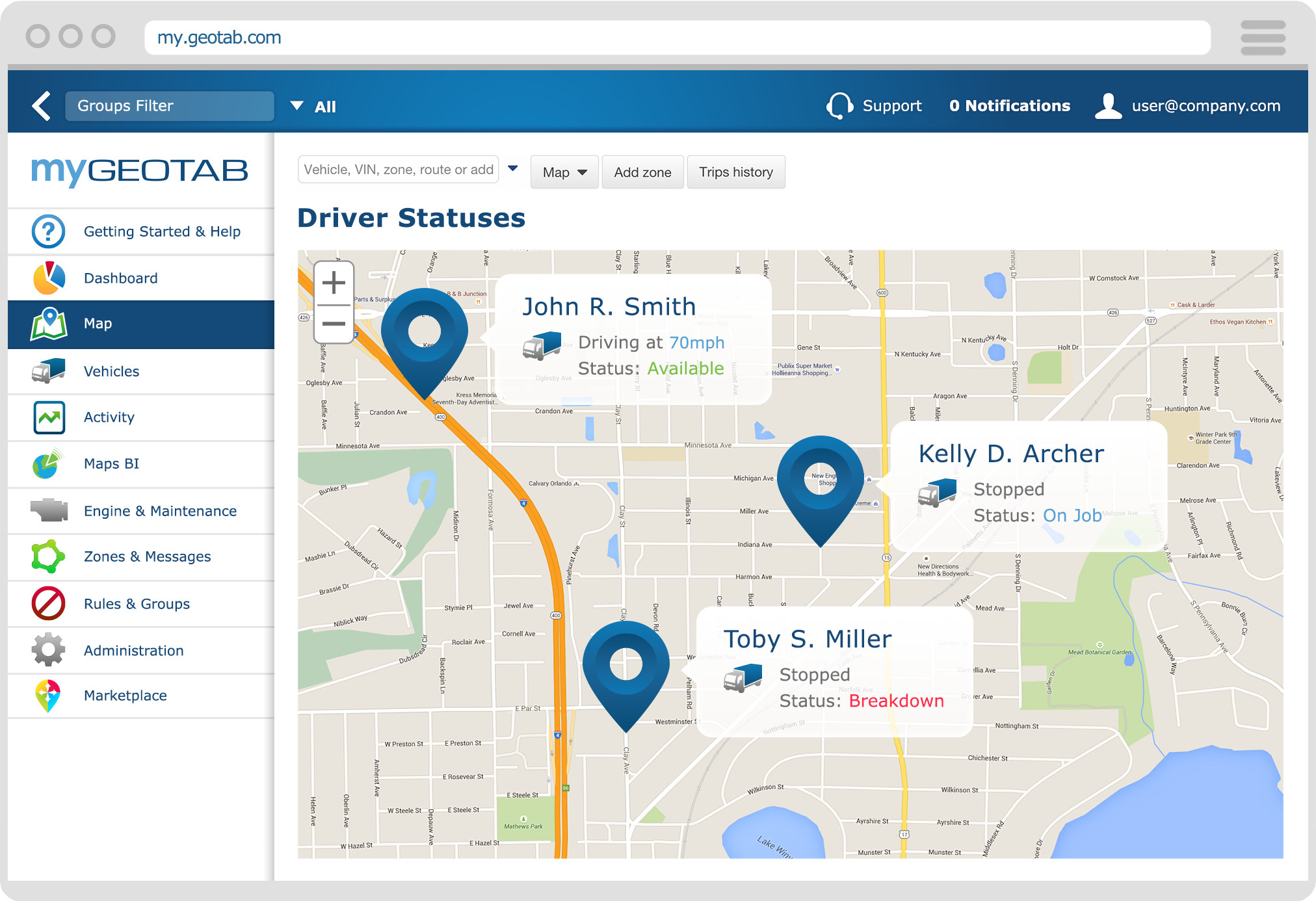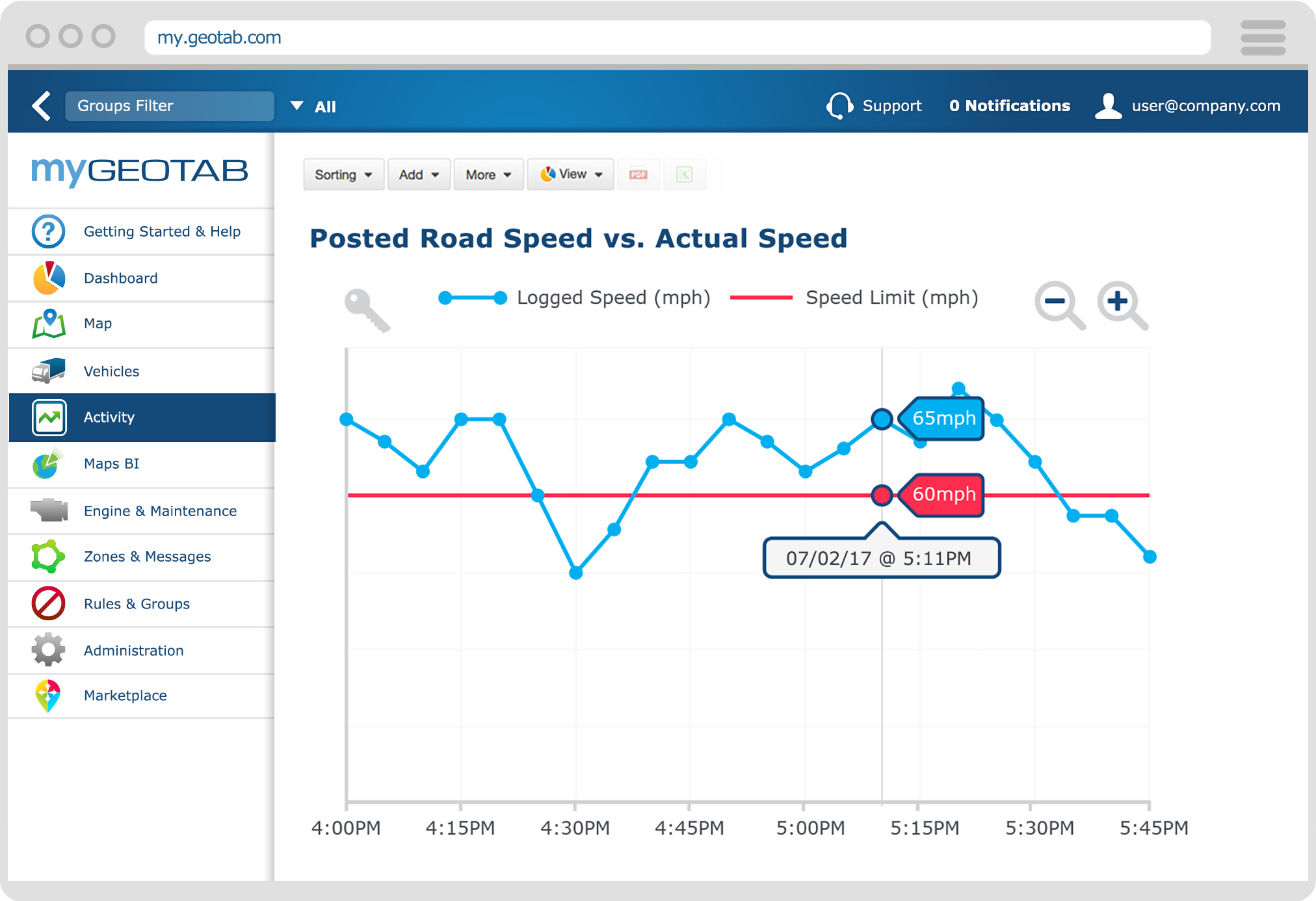 Fleet Management Software
Fleet View, fleet management software powered by MyGeotab, stores GPS, telematics, vehicle trips, and driver behavior in real-time. User-friendly, intuitive and efficient, Fleet View automates data collection and transforms it into useful, actionable information. Detailed reports deliver data-rich analytics on vehicle location, movements, and condition, as well as driver behavior and habits. Revealing trends and patterns provide opportunities to make informed, cost-saving and safety-enhancing decisions.
Visit the Geotab Marketplace to download free and purchased plugins that greatly enhance your fleet management software with options like drivers approaching speed limit, driver feedback and training, accident prevention, compliance, in-cab and forward cameras, collision reconstruction, routing, and much more.
Simplified Fleet Management
Fleet View stores telematics and GPS data that is collected through Geotab's Go9 vehicle telematics device, fleet managers select or customize rules that measure events surrounding five core areas: Productivity, Safety, Fleet Optimization, Compliance, and Expandability.  Once a rule is selected, choose from email, pop-ups or in-vehicle coaching and alerts notification options.
Uncover waste idle time
Track vehicle GPS, speed, and direction
Monitor harsh braking, acceleration, and seat belt usage
Utilize vehicle diagnostics
and more
Users can also customize dashboards and reports with the click of a button, and automate data transfer between Fleetview data and other systems within their organization.*
Enterprise-grade Security
Fleets of any size have the same solid, scalable software foundation to grow on. Using Enterprise-grade technology, MyGeotab provides a secure architecture and enhanced data protection, even if you manage your fleet through an unsecured network. All data flows are encrypted, and administrators can customize user levels access and password complexity.
*  World-class API and Software Development Kit (SDK) is included.

KEY BENEFITS
GPS vehicle tracking
Driver behavior management
Route optimization
Engine health & maintenance
Custom mapping
Robust engine data collection
Advanced reporting
Open data integration
PRODUCT SPECS
| | |
| --- | --- |
| Platform | Browser based |
| Browsers | Internet Explorer 10 (or higher), Mozilla Firefox, Safari, Opera, Chrome, Flashpeak, SlimBrowser |
| Security | Enterprise-Grade Security |
RELATED PRODUCTS
Hardware
GEOTAB GO9 Vehicle Tracking Device

Plug-ins and Add Ons


Geotab Marketplace is an online solutions center for fleet management, with in-vehicle cameras, Bluetooth asset tracking, apps, and much more. Connect the things that matter to your business. Take advantage of the integrated solutions provided by Geotab's diverse partner network to help you achieve your goals.